South Boston, VA
Story by Norwood Walker
Photos by Steve Long
For a decade, Ginny Bogart dressed the cast of the Prizery theater company and was affectionately known as the "Costume Mistress."
John Fulton, former president of the Board of the Prizery reflected on working with her, saying, "I know that Ginny was very passionate about her work. As a design professional she took great pains to make sure costumes were appropriate for the shows. The costumes always looked amazing on stage. She had a team of local volunteers, as well as some theater students, that she recruited and worked well with. Ginny put in long hours planning, constructing, and repairing costumes and was always in control. [She] never ever seemed to be in panic mode. And through all the years that she did costuming at The Prizery, she always came in under budget."
THE BEGINNING
Ginny began working with the Prizery in 2001 on The Diary of Anne Frank for the Halifax County Little Theater (HCLT). John Fulton, a friend and fellow church member, knew of Ginny's creative skills and encouraged her to become involved with this production. Since she sewed, it made sense for her to work with costumes, which she had never thought of before. Growing up, she had been in shows in school but never had a real passion to be involved with theater per se. Music, band, and chorus were the only extracurricular activities her parents thought acceptable for a girl.
Her 10-season run as the Prizery Costume Mistress started in 2009 with the brand new Summer Theater. The 2010 season included Dames at Sea, Midnight Strut, and Annie. Dames at Sea was a parody of big movie musicals from the 1930s with some action taking place aboard a ship. Midnight Strut was a revue of 1930s and 40s songs, and Annie had not one but two casts of orphans. Ginny proved herself up to the challenge over 85 shows.
THE CHALLENGES
Ginny's greatest challenge was to build for two large shows in five to six weeks' time. Because of the time constraints she would start plotting, pulling, and building things that were not size specific as soon as she learned what the shows would be for that season. By the end of April, she would typically have the cast measurements. That is when she would get to work at home in her large room devoted to sewing, another with racks for costumes, and three closets for overflow. This is also where she stored hundreds of yards of fabric that had been purchased or donated, along with lots of thread, trim, lace, and other materials required for making the costumes. By mid-May she would move operations to The Prizery where she would then have assistants. Some of the costumes for both shows would have to be ready for publicity pictures when the cast members arrived the first week of June, and everything had to be ready for the opening the third week of June.
Les Miserables required period costumes that had to look old and ragged but be sturdy enough to hold up for numerous shows. The range of costumes from the very poor to the very wealthy was another factor.
Oliver was another example where the clothes had to be in tatters to replicate the street urchins of 19th century London, but made well enough to stand up to repeat performances from active cast members.
Perhaps the greatest challenge to Ginny's skills came with Mamma Mia. The disco costumes for the three girls required creating a fabric look from lamé. Two colors of lamé were cut into strips, then sewed together in five to nine layers. They were knife pleated then sewn onto tops and pants which were made of stretch sequin fabric. It took three to five hours to make each flounce, and 32 flounces were made from a total of 20 yards of lamé. Then the pants were made from liquid lamé and shirts were made from satin for the guys.
THE FAVORITES
Between the Prizery Summer Theater and HCLT, Ginny has designed and/or built costumes for over 85 shows since The Miracle Worker in 2001. It is difficult for her to pick favorites from such a legacy, but she can name a few. Loving the Dickensian period, A Christmas Carol is the first one to come to mind, she said. This is a show that has been repeated several times over the years, but the costumes always need a tweak or update. In The Savannah Sipping Society, she made two Renaissance outfits complete with hennin. A hennin is the cone shaped head piece worn by ladies of the Renaissance. Think a dunce cap wrapped in lacy frilly stuff with a tail extending from the peak.
Another of Ginny's favorites was Glinda's dress from The Wizard of Oz. My granddaughter would agree with her there. I loved the capes and costumes of the Munchkins which filled the stage with a riot of color. In Les Miserables, Ginny said she loved that all Cosette's outfits were made from curtains and drapes, but one would never know, as it was not as obvious as in Carol Burnette's famous Gone with the Wind skit
Speaking of curtain clothes, the sailor outfits and clothes for the children from The Sound of Music were other favorites, along with the clothes for the orphans in Annie. Ginny also mentioned Cinderella's quick change ball gown and the little animals as favorites. It seems to me that the more challenging a costume is, the better she likes it. As she said, "Many times, it may be making a specific costume that makes me happy."
THE MEMORIES
She has made memories for anyone who has ever seen her work on stage, but Ginny has many of her own. Most center around the people who have worn her work. She has dressed many of the young actors and actresses from the local area from the time they were little until they graduated from high school and went on to college and beyond. She said she has always been amazed by the level of their talent. She has dressed those who have gone on to Broadway, touring companies, and across the seas. But one in particular seems to stand out. During Cinderella, she said, "I was dressing a teenage boy, trying to figure out how to tell him he was wearing 'pumpkin pants' which I was not sure he would happily accept. When I showed them to him he said, 'cool.' It makes me feel so good when they tell me they love their costumes…that all the time, thought, and energy I put into making them is appreciated." For those who may not know, "pumpkin pants look like bloomers."
Ginny Bogart said she loved dressing the Prizery actors and considered it a great way to combine her interest in and passion for design and sewing. Researching period looks and figuring out how to create the needed looks and specialty items out of what was available, what could be found, and what could be made while staying on budget was a challenge she enjoyed. She said she asked herself, "How can I get the look we want at the lowest cost? That old saying, 'Necessity is the mother of invention' is right up my alley."
Directors knew they could rely on the "Costume Mistress." They would try to persuade her to come out and take her bows. She never would. She said the costumes could speak for themselves. They did and still do.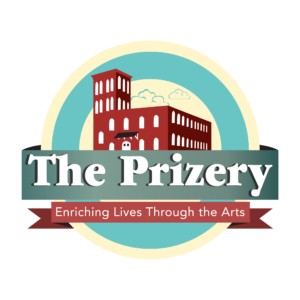 700 Bruce Street
South Boston, Va. 24592
(434) 572-8339
https://prizery.org/
Norwood Walker was born and raised in Hurdle Mills and was a member of the last eighth grade class at Hurdle Mills School. After all these years, he is still teaching, but more importantly, he is still learning.