A Blend of Old, New, Southern, Midwestern, and Everything in Between
Story by Phyliss Boatwright
Photos by Mackenzie Clayton, RCS Sophomore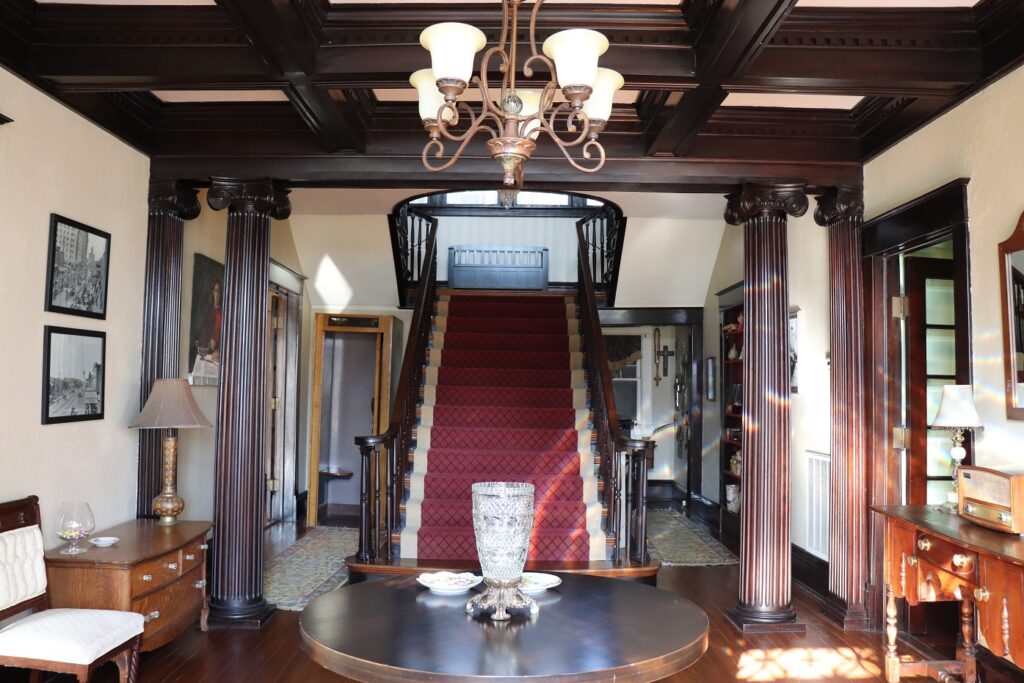 Minnesota native Victoria O'Duffy had never been to North Carolina until 2016, when she stepped off a plane at Raleigh-Durham International Airport to move into what is now the Manor on Main Bed and Breakfast on Roxboro's Main Street.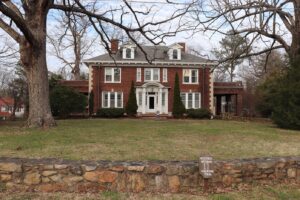 The former civil rights attorney said her brother bought the property to live in after he retires. While searching for his perfect retirement home, he traveled the United States, O'Duffy said, looking at things like crime rates, real estate prices and other livability factors. When he saw the Roxboro house, "he fell in love," O'Duffy said.
And so did she upon first glance at the property. She said her brother first told her about the historic home during a cold Minnesota winter. He told her the house had once been a bed and breakfast. Roxboro attorney Alan Hicks and his wife, Cindy Hicks, opened Barrister's Bed and Breakfast in the home in 2001, and served guests there for several years.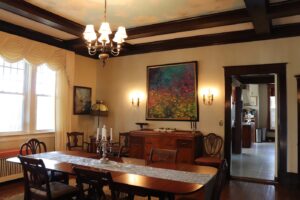 When she got the call from her brother, O'Duffy said, she "was about to have an empty nest," so she "sort of jokingly" told her brother she would move to North Carolina and live in the home until he was ready to retire. He called her back a few months later and asked if she was serious. In August of 2016, O'Duffy moved to Roxboro, sight unseen. Shortly thereafter, the idea of once again operating a bed and breakfast at 400 North Main was born. O'Duffy said she had "never stayed in a bed and breakfast," but decided to approach running one as if she were entertaining guests, albeit ones she doesn't know very well.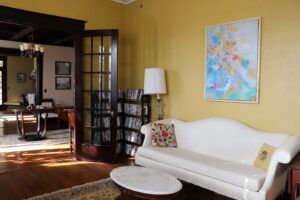 Walking into the 5,116 square foot home makes it easy to see why O'Duffy and her brother love it. A magnificent grand staircase greets visitors as they enter the front door. To the right of the door is a common room O'Duffy turned into a cozy, well-stocked library, complete with a large, electric, rocking recliner she picked up from the Habitat for Humanity Yard Sale in Roxboro.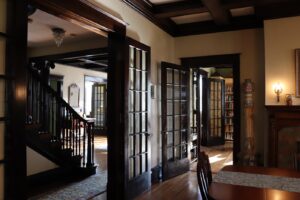 O'Duffy quickly became involved in Habitat after moving to Person County, and several pieces in the Manor on Main were purchased from Habitat's thrift store. Other pieces, and the rug in the library came from O'Duffy's Minnesota law practice and that of her brother-in-law. It all combines to make a perfect spot to relax and read, or for book clubs or writers' groups to meet.
In addition to renting rooms, Manor on Main offers meeting space and event accommodations. Event prices are charged according to the services needed. O'Duffy has so far hosted events ranging from a Sappony Tribal Council meeting to weddings. Last fall, she donated space to Safe Haven for that organization's gala.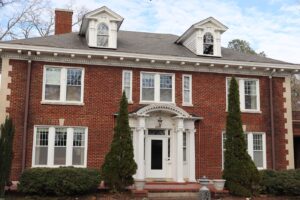 All guests are treated to an eclectic blend of furnishings and decorations. On the enclosed porch off the kitchen, another Habitat find is a former gun case O'Duffy plans to turn into a liquor and wine cabinet. On the porch are pots filled with herb plants. A small table and chairs make the spot a "wonderful" place to enjoy the morning light with a cup of coffee or breakfast, said O'Duffy.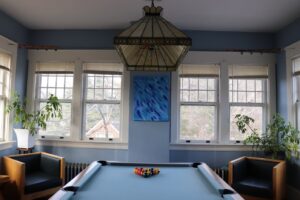 The entire house, built in 1921 by John Reams for H.W. Winstead Sr., is furnished with "an odd mixture of old family stuff" and pieces O'Duffy and her brother have collected over the years, as well as those Habitat finds she is constantly making. There is even an old wooden telephone booth that included a working phone until just recently.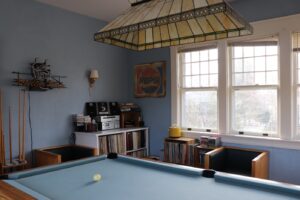 One bedroom features O'Duffy's "dad's furniture from the farm," as well as a trunk her brother found that carries an interesting history. It belonged to a woman who was going on tour with the Ziegfeld Follies but died before she could live her dream of being a showgirl. The bed in another room was built by CWS Furniture in Birmingham, England. The furniture builders were part of a large cooperative formed in the late 1800s that is still active today.
Another upstairs guest room, with walls a deep shade of comforting purple, features a dresser O'Duffy said someone left outside the Habitat store "in awful shape." After refurbishing, it is now one of her favorite pieces in the house. "I love rescuing old stuff," she said, adding that she tries to find period pieces to use in the house.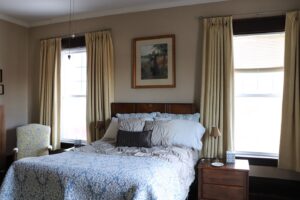 The back room upstairs includes reminders of many periods. The billiard room is painted a light blue and wrapped on three sides by large windows overlooking the tree-filled backyard. In the summer, when the trees are full, O'Duffy said the room "feels like a tree house." In addition to the pool table, the room offers music lovers vinyl records, CDs and tapes from all time periods and genres. Many of the records are spoken word renditions of Shakespeare plays, John F. Kennedy speeches, TS Eliot poetry and Sherlock Holmes adventures. The music includes everything from Lawrence Welk to The Monkees to Rodgers and Hammerstein to Engelbert Humperdinck. Guests can hold record parties or just hang out in the bright, airy room, said O'Duffy.
Art work in the house is an eclectic blend as well. The front sitting room features work by local artist Chrystal Hardt. There are also pieces from Europe collected by O'Duffy's brother on his travels.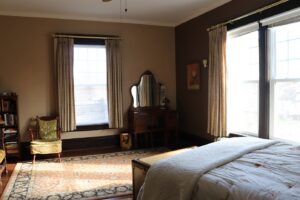 The Manor on Main boasts five bedrooms, all named in a Minnesota theme -- from The St. Paul to The Prince. The home also offers four full bathrooms and one half-bath, as well as five fireplaces. Breakfast is served from the spacious, fully restored kitchen. Guests are served in the cozy breakfast nook or the formal dining room, which features a hand-painted mural on the ceiling.
Room rentals and more information are available on Airbnb.com.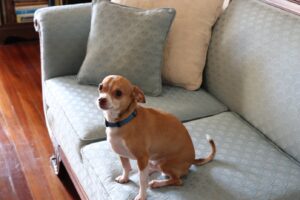 A guest review on Airbnb encourages travelers to visit: "I have stayed here on four separate occasions totaling 20+ nights while on project work in the area. I would highly recommend staying here for the business traveler. The outstanding hospitality and the cozy feel of the classic old house made every evening after work seem as though I was on a mini vacation. I have been traveling for business for 30+ years and never have felt as comfortable and content as I have staying here. Great Wifi, comfortable bed, quiet neighborhood, awesome restaurants within walking distance. I only hope I can find something this good in the next city I visit."
Acknowledgement and gratitude are owed to Kathy Young, director of the Person County Museum of History, for her assistance in researching the history of the home.
Phyliss Boatwright is a journalist who for years reported Person County news in The Courier-Times. She has published two books and several short stories. Her book review show, Turn the Page, can be heard on WKRX, 96.7. For the past seven years, she has taught journalism and served as public information officer at Roxboro Community School. She can be reached via email at phylissboatwright@gmail.com.